What If Scientific–Leave Only Bubbles, LLC, is family-owned and operated and is dedicated to offering the most tried and true products for the earth science classroom; all at the lowest prices.
Paul and Joan Herder opened for business in 1997 when they introduced their newly-developed "Density Flow Model", a teacher demonstration apparatus, to the marketplace. In 2006, hundreds of marine curriculum products were added to their store when they acquired Leave Only Bubbles from Marine Lab in Key Largo, FL. Since then, they have added winning products from LaMotte, Lab-Aids, American Educational Products, Carson Optical, NeoSci, and dozens more.
Paul is a National Board Certified instructor in the earth sciences, and has been teaching for 27 years. He is also the coach of Wisconsin's successful National Ocean Sciences Bowl team, having guided them to the national competition for eleven years; four of which led to national titles. He is passionate in his support of the earth sciences; his success with the Ocean Bowl demonstrates his belief in the relevance of teaching respect for the earth and its oceans.
We are proud to continue Leave Only Bubbles' ideology of environmental responsibility.
---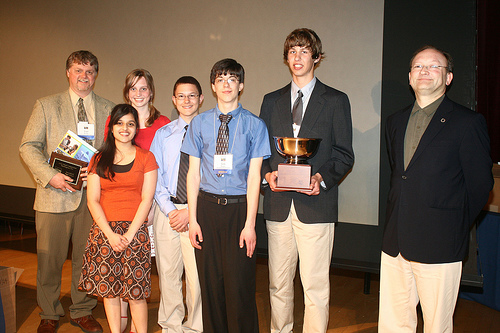 Paul with the first of his four national champion Ocean Science Bowl teams from Marshfield High School.